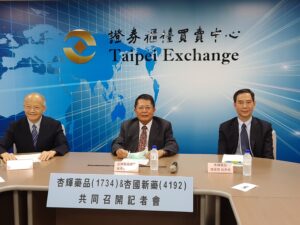 SynCore Biotechnology (4192:TT) receives interim analysis results for its global phase III clinical trial, SB05PC (EndoTAG®-1). The Independent Data Monitoring Committee (IDMC) did not mention any safety concerns and the trial can continue as planned, without any modifications. SynCore will follow recommendations of the IDMC and once the clinical trial is completed, new drug applications will be sent to the US FDA, EMA and Taiwan FDA.
About SB05PC
EndoTAG®-1 is a novel pancreatic cancer drug, a cationic liposomal paclitaxel, with EMA and US FDA orphan drug designations. The global phase III clinical trial is designed to be a second-line therapy after the failure of the FOLFIRINOX regimen. The target number of patients is 218, with sites in the US, Taiwan, South Korea, France, Hungary, Russia and Israel. On July 30th, SynCore announced the last patient in, successfully concluding enrollment.
Treatments for pancreatic cancer are a high unmet medical need, as current therapies are unable to effectively improve patient outcomes. SB05PC (EndoTAG®-1) has the potential to increase overall survival, with relatively low adverse events and maintaining the patient's quality of life.
There were 459,000 pancreatic cancer patients in 2018 and the WHO projects 558,000 a total of patients in 2025, with a seven-year growth rate of 21%. According to Cancer Research, the pancreatic cancer market accumulated USD 2.01 billion in 2017 and will increase to USD 4.01 billion in 2025.
FOLFIRINOX is the first-line therapy standard-of-care for pancreatic cancer in the US, Europe and Asia. SynCore strategically places its clinical trial globally to meet the demand of a second-line therapy. China takes up the highest number of pancreatic cancer patients in the world. SynCore received the National Medical Products Administration (NMPA) approval to conduct clinical trial for SB05PC first-line therapy in China.
As of now, SynCore is in discussion with several pharmaceutical companies for regional/global licensing rights.
PIII Pancreatic Cancer Clinical Trials Ongoing
Country
SB05PC (EndoTAG®-1) As Second-Line Therapy
USA
Taiwan
France
Hungary
South Korea
Russia
Israel
SB05PC (EndoTAG®-1) As First-Line Therapy
China
About SynCore Biotechnology
SynCore Biotechnology Co., Ltd. (4192:TT) is a biopharmaceutical company with a comprehensive pipeline portfolio of new drugs in the areas of oncology, ophthalmology, dermatology and infectious diseases. The EndoTAG® technology platform is wholly owned by SynCore. Please visit SynCore's website at http://www.syncorebio.com/
Contact
Charles Liang, Investor Relations                        Sarah Liu, Public Relations
Phone: (02) 2764-0826                                         Phone: (02) 2536-1237/ 0932-949928
Email: finance@syncorebio.com                          Email: sarahliu@time-ir.com.tw

DISCLAIMER
This press release may contain certain forward-looking statements. Although the company believes its expectations are based on reasonable assumptions, these forward-looking statements are subject to numerous risks and uncertainties, including scientific, business, economic and financial factors, which could cause actual results to differ materially from those anticipated in the forward-looking statements. The company assumes no responsibility to update forward-looking statements or adapt them to future events or developments. This document does not constitute an offer or invitation to subscribe or purchase any securities of SynCore Biotechnology Co., Ltd